A bonnet that won't latch, a grille that doesn't clip in and panels that don't fit.
These are among the quality and safety issues reported by a smash repairer who repaired a damaged car exactly as instructed by an insurer, with non-genuine parts.
Clay Hoberecht, owner of Best Body Shop in Wichita, Kansas in the United States, used the non-genuine radiator support, bonnet, bumper, headlight, grille and fenders specified by the insurer to repair a 2016 Ford Fusion (locally known as the Ford Mondeo).
In a Facebook video Hoberecht described the difficulty of fixing the front-end damage with non-genuine parts.
Watch the full video here:
"We said 'we want OEM'. They [the insurer] said no." said Hoberecht. "We said 'we'll build it your way', and we'll prove to you that this is not going to work."
"The parts they want us to use are not likewise in quality, fit and performance
"The car has 20,000 miles on it. The body lines did not look like that when it came in.
"We are not willing to compromise our morals and bend the metal and make it fit."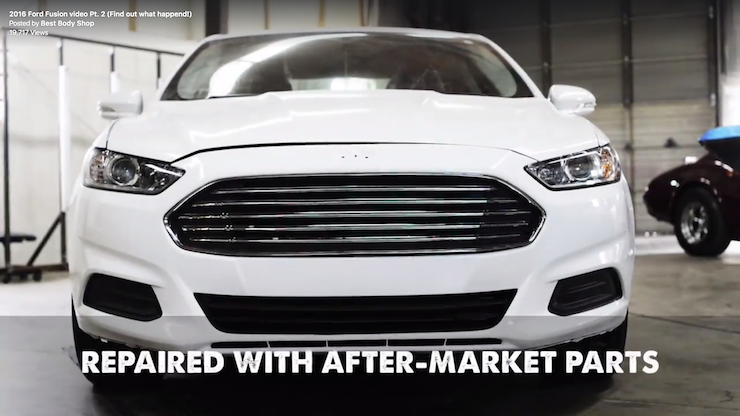 The process has also caused major inconvenience for the customer who is without the car while the poor repair is corrected.
Investigations in Australia by Genuine is Best previously exposed a potential risk for non-genuine bonnet safety latches to fail while driving.
When Hoberecht showed the insurer the inferior result from the non-genuine parts, he says the insurance representative provided him with a list of local repairers who, he was told, would have 'zero problem making this fit'.
"There are a bunch of shops making this *expletive* metal work. That's not ok with me," Hoberecht said.
"If I had built this out of OEM parts in the first place this car would already be done… It is my goal to get a car in, get it repaired to pre-collision condition to be the safest and fastest we can within our skills."
Will your insurer make sure your car is repaired to pre-collision condition?